Donations
Thank you for your thoughts and prayers during this time of unrest in Nicaragua.
 Despite the many difficulties, we have been able to continue to operate, which has been a true testament to our local staff capabilities. However, depending on the community, at times, we have had to send staff home early or close for the entire day for their safety and security.
  In times of unimaginable adversity we must sustain our staff, our library family – no matter the circumstances, we are committed to bringing the love of reading  to the children and their families in Nicaragua. More than ever, we recognize and appreciate your incredible support and friendship, which makes our work possible. Please consider helping the wonderful people of Nicaragua in any way that you can – big or small.  Our mission has never been more critical and your help has never been more needed.  We are grateful to work together with you to help those who need it the most during these difficult times. We are working with our friends at Building New Hope to provide you 501c3 charitable tax deductions using PayPal. For the time being, please use the link below in order for your donation to be tax deductible. Please include a note stating this is a donation for Puedo Leer Library. Thank you for your donations, anything can go a long way! As a reminder, and as always, 100% of your donation goes directly to the people we serve in Nicaragua.  Thank you for your continued prayers, love and support.​
IN A TIME OF POLITICAL STRIFE,
HOW "EMOTIONAL ARTS" CAN SUPPORT CHILDREN
By Steve Lewis
With the current political violence in Nicaragua we are worried how children will be affected. Schools are closed or openly intermittently. Children witness demonstrations or see their families arguing over politics. Teachers and Librarians are looking for ways to help children to express their emotions – whether these be of fear, insecurity, or actually of happiness and tranquility.  At the library we will start an Arts & Craft time every Saturday morning to help children cope with the crisis.

New Books in the library:
Los murales de Cacaxtla
La Historia imprescindible para curiosos
Manual del Bullying
La Casa del Árbol (serie)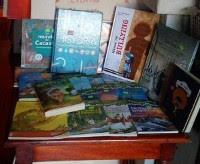 Upcoming Events


July 12   
Sister Library Presentation (Cortez Public Library)